[
Most anime has a central protagonist that a majority, if not all of its central story follows. In My Hero Academia's case, that character is Izuku Midoriya. Though he is considered the chosen one, handpicked by the legendary hero All Might to become the greatest hero, Midoriya is only just beginning in his heroes' journey.
With great potential for his character, fans expected to see a lot from Midoriya, but sadly, more recent seasons have left the hero in training with a lackluster role. Midoriya unfortunately falls to the background compared to the other characters around him, but one event followed by his own drive to save the day brings him back to a thrilling protagonist's call to action.
RELATED: My Hero Academia: The U.A. Students Join The Fight – For Real
Midoriya's Road To Heroism
With lovable qualities like unwavering heroism and a kind-hearted personality, Midoriya appeared to be a heroic protagonist worth rooting for. In a fictional society of people with quirks — superhuman abilities that one is born with — Midoriya began his heroes' journey being quirkless, a rarity in his world. Midoriya dreamed of becoming a professional hero and following in the footsteps of the number one hero All Might, but without a quirk, there was little hope for his dream. After rushing in to rescue his middle school bully from a villain, Midoriya proves his worth as a hero and is recognized by the world's number one hero, All Might.
The story of the underdog hero Midoriya jumpstarted the moment that All Might declared, "You too can become a hero." With the mysterious power of All Might's quirk, One For All, Midoriya trains hard to uphold justice and save lives. As much as this earnest protagonist grows in strength and inspires those around him, there are more moments when he falls into the background, especially in the most recent seasons.
My Hero Academia's Mixed Focus Left Midoriya Lacking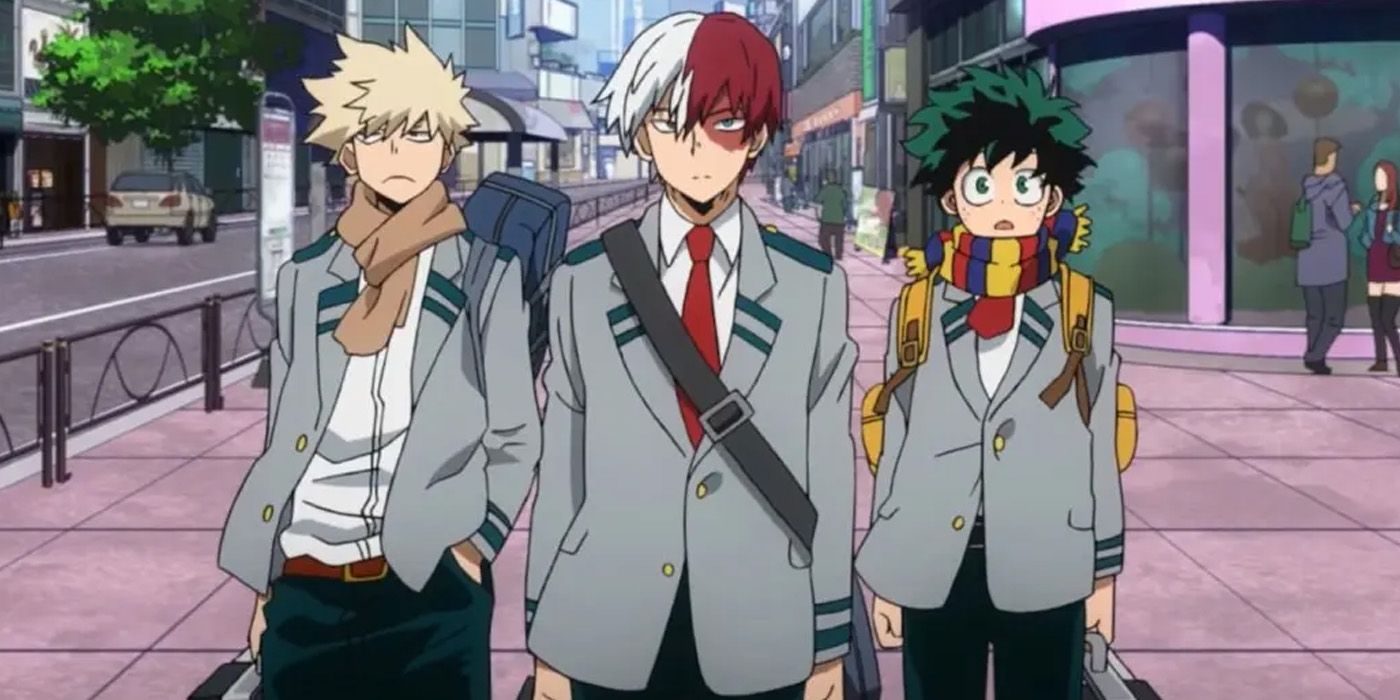 As much as Izuku Midoriya has grown since the beginning of My Hero Academia, his significance to the overall plot has been forgotten since the very end of Season 4, when he apprehended the villain Gentle Criminal. Some of his failure to stand out is due to the massive amount of vital characters on both the hero and villain sides of the story, however even in Seasons 1 and 2, there was a greater balance of the protagonist's role with the rest of the cast.
RELATED: My Hero Academia: Deku's Latest Quirk Neutralizes His Biggest Anime Weakness
Now the main character can't always remain in the limelight, but since Season 3, Midoriya has been easily overshadowed by the actions of multiple characters like All Might, Mirio, Bakugo, Todoroki, Endeavor, and even a number of villains. In fact, Season 5 barely shows Midoriya at all, and as interesting as it is to learn more about All For One, the relentless training arcs are a letdown for a character with so much promised potential.
Even as season 6 premiered, Midoriya was still falling into the background as the devastating war between heroes and villains begins. At this point, Midoriya is given the minor role of evacuating civilians along with his classmates. With so much intense action and drama happening far from the protagonist, it looked as though Midoriya would never see any action. That is, until the reawakening of Tomura Shigaraki.
Tomura Shigaraki's Rise as All For One
While Midoriya has his own training as a hero, Shigaraki has been rising in strength and power as well, undergoing his own training as a villain. During their first up-and-close interaction at the end of Season 2, they were merely students in their own ways with few accomplishments to boast about. From that point on, they wouldn't meet again until the current war between heroes and villains, but this is not because they happen to meet on the battlefield. Shigaraki has put a target on Midoriya's back since their first meeting, but without the right strength, the villain never made a move until now.
After his rise to power, defeating and taking over the Liberation Army, Shigaraki achieves a new level with his quirk, Decay. With all the resources and support of the Liberation Army, Dr. Garaki conducts experiments to give him the power of All For One as well as enhance his physical abilities. This would take time to accomplish in full, and thanks to the hero Hawk's spy mission, the heroes could launch a surprise attack before the villains were completely prepared. Unfortunately, all the heroes' efforts would go to waste as the experiment would still give Shigaraki more than enough strength to turn the tides of war back in the villains' favor.
RELATED: My Hero Academia: Could All Might Have Done More for Shigaraki?
Shigaraki's Connection to Midoriya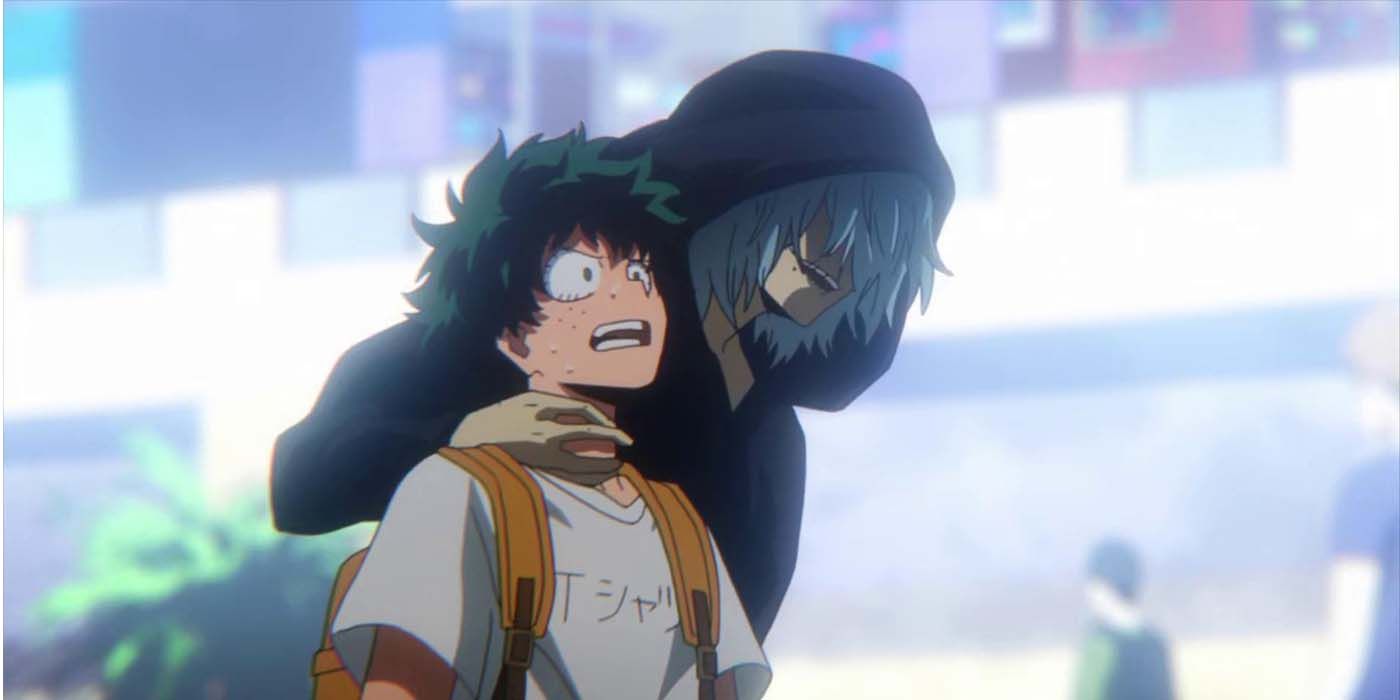 Both Shigaraki and Midoriya inherited the powers of All For One and One For All respectively, and this inevitably made them enemies. Climbing out of the shadows of their mentors, they are finally reclaiming their status as vital characters as they face off in Season 6. This would have never happened if Shigaraki hadn't achieved the power of All For One.
The moment Shigaraki attains All For One, Midoriya could sense it. After hearing Shigaraki's call for One For All over the Heroes' telecommunications, Midoriya quickly deduces that the villain was coming after him. Knowing the danger that Shigaraki would bring to the civilians that Midoriya is responsible for as well as his closest friends, Midoriya makes a heroic decision.
RELATED: My Hero Academia: Shigaraki Finally Deserves to be the Anime's Main Antagonist
Midoriya's Long-Awaited Call to Action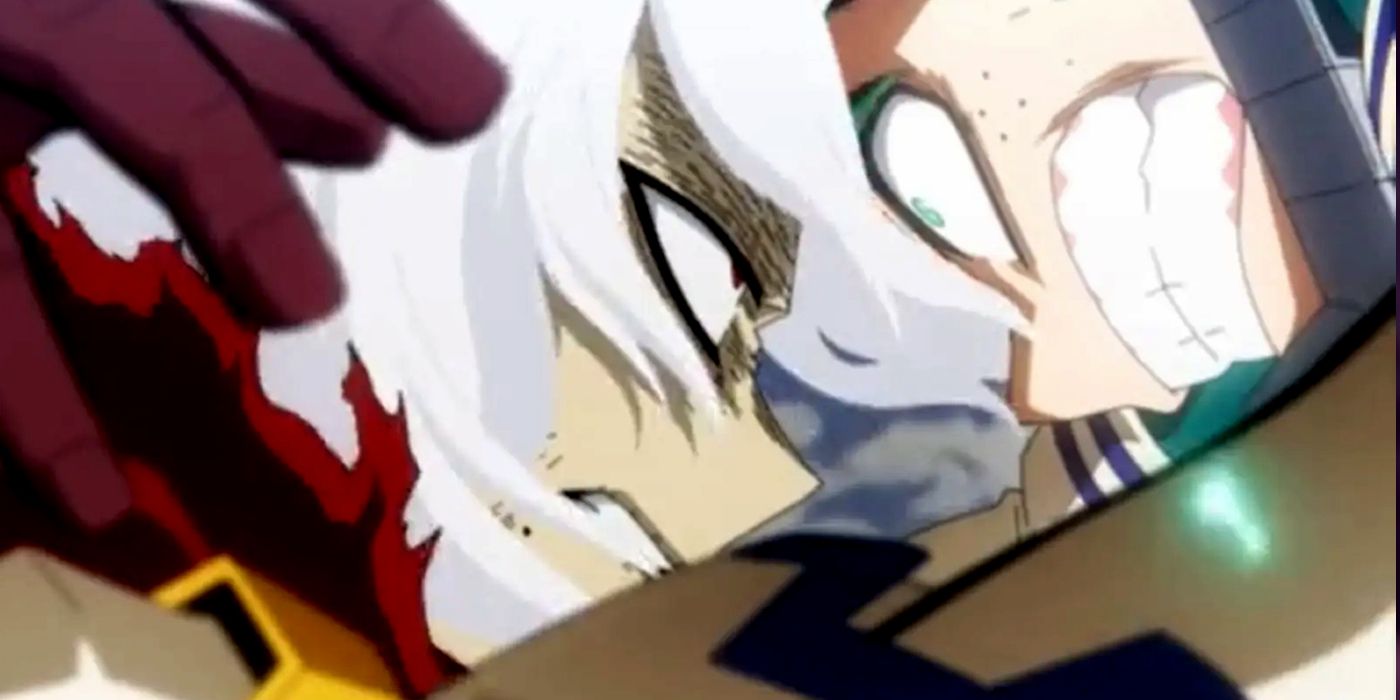 Despite the risk of him fighting Shigaraki alone, Midoriya runs to draw the villain away from the civilians and his friends — though Bakugo follows along, fully understanding the situation. Though the pro heroes jump in to protect Midoriya, this moment teasing the clash between Shigaraki and Midoriya is one that's been building up since Season 2. The major focus on these two opposing characters is also significant since they both, ironically, have struggled in standing out from the pack.
In the same way that Midoriya is looked down by others and overshadowed by other characters' feats, Shigaraki has had the same issue. The two have come a long way since their first meeting, but now after their intense training, after all their separate accomplishments, they meet again on the battlefield of war.
Shigaraki's chase after Midoriya, as well as his triumph over the pro heroes, finally establishes him as the major villain of the series. Now that he challenges Midoriya with his new abilities, it's up to the young hero in training to finally prove himself worthy to stand on equal terms, acting as the major hero. So far, Midoriya's bold and heroic actions result in the protection of civilians and his friends, making him worthy of the title hero. However, in order to achieve the promised status as the world's greatest hero, he must overcome Shigaraki's challenge.
Denial of responsibility!
Genx Newz is an automatic aggregator of the all world's media. In each content, the hyperlink to the primary source is specified. All trademarks belong to their rightful owners, all materials to their authors. If you are the owner of the content and do not want us to publish your materials, please contact us by email –
[email protected]
. The content will be deleted within 24 hours.