[
Should you put any new Vegemite products on your shopping list? We tasted the lot to find out.
A few years ago, it was all the rage for young Australian chefs to make their own from-scratch version of Vegemite. These were thick and yeasty pastes, the colour of the darkest dark chocolate, usually big on fermented umami flavours and a fair whack of black garlic.
Lately, however, restaurants have been ditching the house-made stuff for the real thing. Vegemite, which celebrates its 100th birthday this year, is hotter than it's ever been, popping up in curries, tartare, gelato, martinis, dressings, sauces and even fried chicken batter.
No wonder big retail brands and supermarkets are getting in on the action with increased gusto too, building on Kraft Singles, Cadbury Dairy Milk and Smith's Chips Vegemite gimmicks of previous decades.
McCain set its Vegemite pizza loose at Coles and Woolworths last month (it was previously only available through IGA), joining Vegemite roast chooks, hot cross buns and – shudders – baked beans. Green's Vegemite Choc Chunk Brownie mix launched on March 1, which might be the worst-sounding use of brewers' yeast extract yet.
Are any of these items worth adding to your shopping list, though, or is it just marketing departments gone mad? I tasted and ranked nine Vegemite-enhanced supermarket foods to find out.
10. Coles Vegemite Scroll
126g, $2.50
Vegemite scroll competition is fierce. Most independent bakeries rock a respectable version of the pull-apart treat, and Bakers Delight and Brumby's sell decent ones too. Coles needs to lift its game.
I tried two scrolls, from two different Coles. One was unremarkable at best; the other flat and dehydrated at worst. Things get tastier in the middle where there's more cheese and Vegemite, but by that point it's too little, too late. Stick to a soft white roll with Vegemite and a slice of Cheer instead.
9. SPC Baked Beans Rich Tomato & Vegemite
425g, $1.70
Kill it with fire.
8. McCain Cheesy Vegemite Lil' Pizzas
380g four-pack, $7.80
I have eaten more mini McCain frozen pizzas in my life than any other food (Farmland fish fingers are a close second). They were a regular treat at my primary school canteen and a home freezer constant through childhood. Frozen pizza was probably the first thing I learnt to "cook".
However, unlike instant noodles or the peerless Zooper Dooper, there's zero nostalgic comfort here, only a dry base, the sweet-salty mix of tomato sauce and Vegemite, and cheese that looks like something out of Mosby's Medical Dictionary.
These were sold out at several stores I visited, so I guess the co-branding works, but I also wonder how many families will be going back for seconds. Supermarkets are loaded with half-decent pizzas these days; the Cheesy Vegemite Mini isn't one of them.
7. Vegemite & Cheese
270g, $5.15
"A tasty blend of two Aussie classics" spruiks the label of this Bega cream cheese and Vegemite spread. And unlike, say, Golden Circle pineapple, Bushells tea and Tim Tams, Vegemite and Bega are Aussie classics still produced by Australian-owned brands.
It's a shame, then, that the spread is super salty (duh, it's Vegemite) and needs more cream to cut through the sodium. I try it scooped on a celery stick as per the serving suggestion, and make a face like a cat with its nose to a lemon. Also, isn't it just the iSnack 2.0 by another name?
All of this only strengthens my hypothesis that Vegemite tastes best when slathered with loads of butter on a (admittedly foreign-owned) SAO.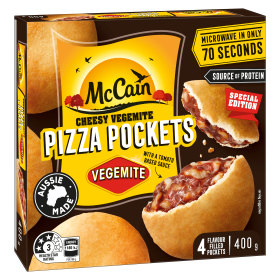 6. McCain Cheesy Vegemite Pizza Pockets
400g four-pack, $8.50
It's been a minute since I ate a pizza pocket. Is the bread always this chalky? And oh my, so much bread too. The packet photograph led me to believe these fist-sized pucks would be bursting with Vegemite and tomato paste, but the filling seems closer to one quarter of the net weight (and I can barely taste the presence of our favourite toast spread). It is cheesy though, to be fair, with proper globs of the stuff stretching like mozzarella in a 1980s Pizza Hut commercial. Now I just want an actual pizza.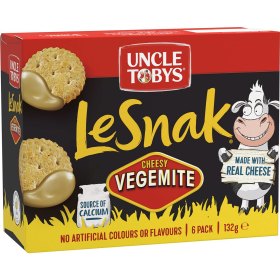 5. Vegemite and Cheese Le Snak
132g six-pack, $5
Confession: I quite like airplane food. Or at least I like the ceremony of peeling back different plastics and foils to reveal what lies beneath. Whatever breaks up a 12-hour flight, yeah? Taking the lid off a Le Snak had the same satisfaction in primary school, and maybe that's why I enjoyed this Uncle Tobys and Vegemite team-up so much.
The biscuits are so unexceptional they make a wheat digestive taste like a Wagon Wheel, and there's barely enough dip for one of them, let alone three, but the spread is full-flavoured and cheddar-y in the most nostalgic way. Qantas, if you're reading, send out a few of these between meals.
4. Coles Vegemite Twist
138g two-pack, $2.50
A world away from the retail giant's ordinary scroll effort. Sheets of pastry are spread with Vegemite, twisted and baked into a golden, blistered, slightly flaky fun time. There's a light-but-chewy texture, almost like it was made in a real-deal bakery, and the Vegemite use is restrained. Would eat again.
3. Coles Roast Chicken with Vegemite
$13
Coles seems to have quite the monopoly on Vegemite products. Woolworths doesn't even have an official Vegemite pastry, just a Mini "Mighty" Cheese Scroll featuring nameless "yeast extract paste" (and at the time of writing, I can't find it in any stores).
Anyway, I went into this taste test expecting the Coles chook to perform badly, largely due to its "cheesy stuffing". Blerk. But, hey, this is pretty good! At least as far as supermarket chickens sold in sweaty handbags go. Vegemite gives savoury oomph to the marinade and creates a more bronzed skin than your average bird. There's only a whisper of Vegemite's unhinged flavour, and the cheesy stuffing is just your run-of-the-mill highly seasoned breadcrumb gear.
A friend of mine has always said her last death-row meal would be roast chicken and a pasta salad from the Coles deli. "You know exactly what you're getting every time." I think she would be well into this.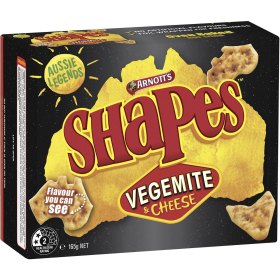 2. Arnott's Shapes Vegemite & Cheese
165g, $3.50
For a long time, I believed the only good Shape was a Barbecue Shape (Pizza fans are legion, I know, but they're wrong, and Chicken Crimpy needs a blast in the sun cannon), however these little maps of Australia could well make their way into my pantry on a regular basis. Vegemite takes a background to the addictive ping of processed cheese, and these taste something like a hard-edged, more savoury cousin of the Twistie.
Other people must feel the same way because these were sold out at two supermarkets, while other newfangled Shapes flavours (Epic Garlic Bread, Sour Cream and Onion) were left behind. Eventually, I found a box of those made-for-kids mini-packets and must have consumed five little bags over three episodes of Columbo Poker Face. A week's worth of recesses in one sitting – if that's not the sign of a good snack, I don't know what is.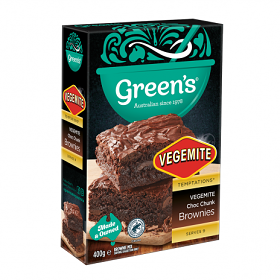 1. Green's Vegemite Choc Chunk Brownie Mix
400g, $6
What was I saying? That a Vegemite brownie is the most ridiculous product to hit supermarkets this year? Something like that. In any case, relative to other packet-mix chocolate treats, this moderately gooey slab is a bona fide winner. You can smell the Vegemite when stirring the sugary cocoa mix with melted butter and two eggs (sold separately), but most of the abrasive flavours bake off in the oven and you're left with toasty, treacly, salted caramel-style top notes. I'm half surprised Peters hasn't launched a Vegemite flavoured ice-cream to scoop on top.

Callan Boys is editor of SMH Good Food Guide, restaurant critic for Good Weekend and Good Food writer.
Denial of responsibility!
Genx Newz is an automatic aggregator of the all world's media. In each content, the hyperlink to the primary source is specified. All trademarks belong to their rightful owners, all materials to their authors. If you are the owner of the content and do not want us to publish your materials, please contact us by email –
[email protected]
. The content will be deleted within 24 hours.